The Shit Show is a new approach to a mental health awareness campaign for young people. It is designed to make the sensitive, 'taboo' issue of mental health more present and approachable to the public. Psychological struggles are still stigmatized, making it hard to reach out for help. We want to offer an alternative way for people to engage with the topic.
The Shit Show itself is similar to an information booth, except it's not. It's more of an interactive pop-up exhibition. Just like standard info stalls, it can be set up at events like conferences, university open days or welcome fairs. The difference is that it isn't intimidating or embarrassing to approach like a stand for mental health issues might be. It's design is meant to be more light-hearted, humorous, appealing to a younger generation.
The central element of the exhibition are emotion simulators. Passerbys are encouraged to try on the strangely beautiful contraptions and perhaps even to take pictures with them on. The goal of these objects is to give the wearer a sense of how emotional pain can feel physically. This is meant to create empathy towards those suffering from mental health issues. This can enable people to offer better support when someone reaches out to them. Furthermore, it may make people understand that it does not have to feel this way, that bad emotions do exist, but that they do not have to be as debilitating as these objects.
A possible addition could be interactive infographics, perhaps even created by the visitors. For example, the survey that the simulators are based on could be extended. Existing answers would be exhibited and people would be encouraged to add their own: write down how it felt to wear the simulators, or what their own simulator would look like, or put stickers on a shitty mood scale. These boards are intended to make it visible that bad feelings are something we all experience in some way and that it is nothing to be ashamed of.
As an incentive cool little giveaways will be there. These will include shit-shaped chocolates, shit pile stickers, ( maybe piece of shit badges) and empathic postcards. These items could also be distributed as part of the welcome kits that are often given out at the beginning of the new semester or sold as "moody merch" in the university shop. These little gifts are not just meant to draw people to the stall, but also to spread the word.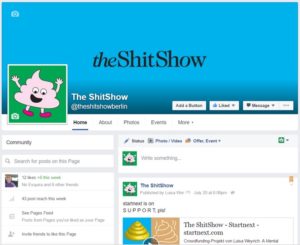 The last part of the Shit Show is an online community, either a website or a facebook page. On the giveaways, there will be a link to the page. This way, people have easy access to a first stop when they are in need of help without the awkwardness of taking a regular brochure. Online, people they should find a concise collection of info material, contacts to institutions like the studentenwerk guidance center and links to interesting projects, articles or funny relatable pictures.